Hello, dear players. My name is Yaroslav, I'm the localization manager of Wild Terra.
A couple of months ago we received offers of help in localizing the game from active players from different countries. Of course we gladly accepted their translations and rewarded them with access keys and in-game goods. After some time, number of volunteers started to grow, and translation using customary ways (with files consisting only 50% of text and 50% of code) became inconvenient, as it took a lot of time to sort out all this different files. As well as we had problems, it was uncomfortable for our translators to do their job.
All things considered, we decided to change the situation and to discover a new way of translation to simplify the process of localization. We've started using OneSky platform for this purpose. Now, translation is simple, fast and ... fun occupation. ;)
Nonetheless, it requires a little introduction on how to deal with it. Remember, this post is not only for those who already participates in the translation, but also for those who might want to make a contribution in improving Wild Terra (and get rewarded for it).
OneSky Tutorial
First of all, you need to contact someone from Juvty Worlds team (preferably me, but, you know, things happen and I might be unavailable for some reasons) and tell that person that you want to help us to translate the game into your language. We have to say that being a native speaker of your language is more important than having good knowledge of English. Don't be afraid to try yourself. Yet, if you're terrible at understanding texts in English we may also say "No". Don't try to fool us, we know when people come to contribute in the project they really like and when they come for promised goods :D
Prepare an email that you'll use as a login. We'll ask you to send us the email address so that we could invite you to our translation projects.

After you open an invitation message you'll appear here, on the projects screen. A few words about the projects:
Game client. Here are all texts and strings that you can see in the game itself.
Regular website. Here are all texts and strings from our website.
Glossary. It consists of terms that have to be translated strictly as they are written here in both game client and website. Usually we don't grant access to it to our volunteers.
Select one of the projects and you will appear on the language selection screen. Actually, you will have only one there - your native language.
Right after it you can start translating. When a new translator comes, we insist on doublechecking the work that was done by previous collaborators to lower the chance of mistake. One thing to mention, usually the base language of the project is Russian (we're Russian development team if you didn't know ;) ), don't forget to set the translation pair to English->"Your native language" in top left corner of the screen. Just in case, some people think we're mocking them by forcing to translate from Russian :D
By the way, underlined words are those terms from the glossary, you can click on them to input their translation.
About how you translate phrases, it works in the very similar way as Google translator works, however, you're the one who does translations now :D
After you suggest something you should click the check mark button to submit it. Sometimes, a string key and a file name may help in understanding the context, they are underlined with red.
If you still can't understand the context, you can leave a comment to us. We will try to reply as soon as possible and give you all needed explanations.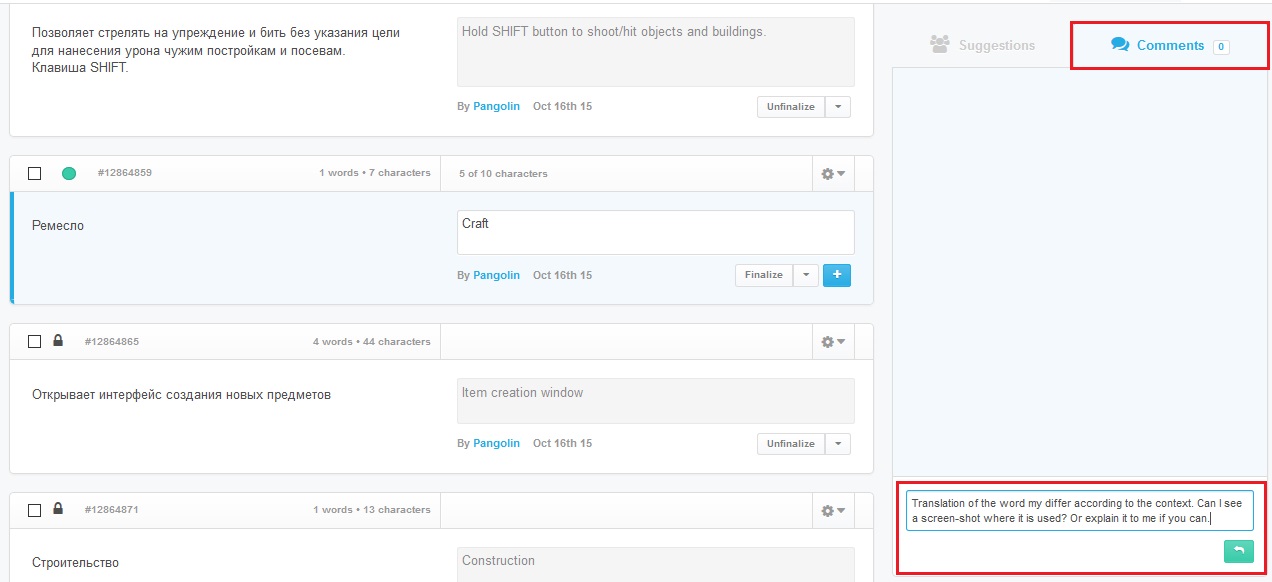 When you come to help us with translation that has been already done, you might find some phrases marked by an exclamation mark which means that these strings need revision. Some might be updated and some might contain mistakes or inaccuracies. It's important to correct this phrases.
Some of the phrases translated in your language may be way longer than in English and the system will warn you about it. Always try to shorten your translations when possible. Too long strings may overlap space allocated for them - this is definitely not good.

For easy navigation you can use a phrase search and filters. Filters allow you to list only untranslated strings or only those which need revision, etc.. Using phrase search you can find all phrases which contain a concrete word, or marked by the same string key. This tools will be very useful in your work!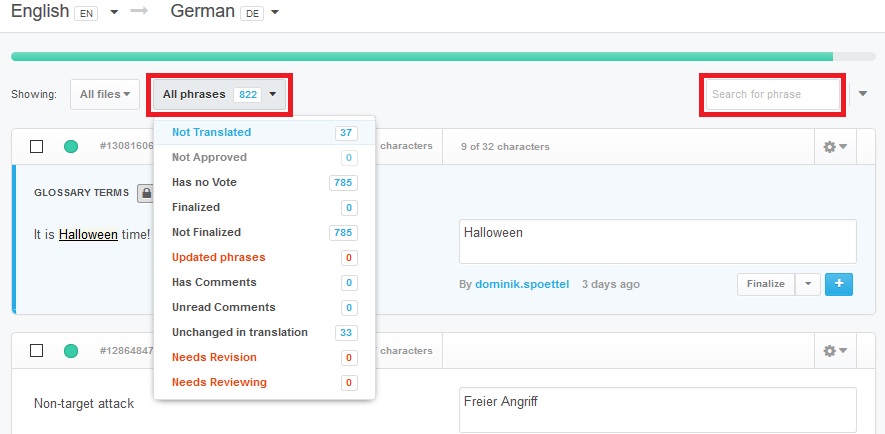 If after reading this, you feel like helping us in translation, you should contact me using the forum chat or my e-mail ( pangolin@ro.ru ) !