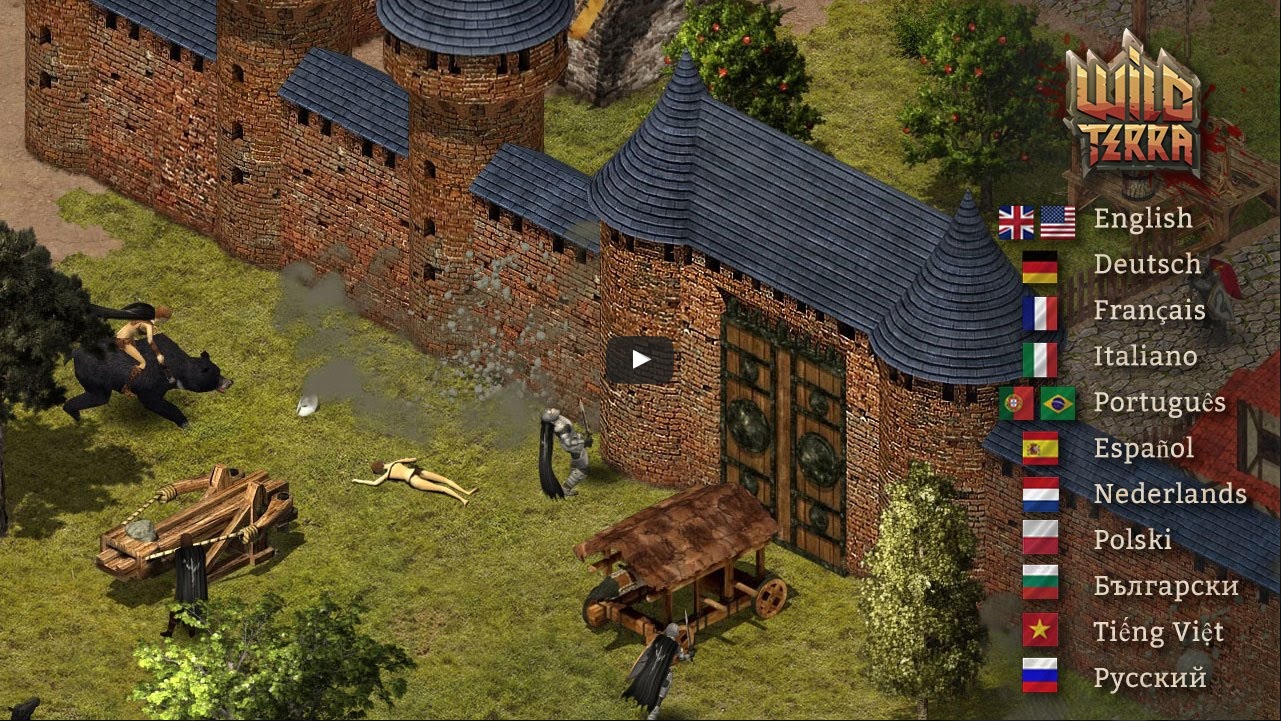 Share the news on social networks and get a chance to win Zebra - unique mount. Our pages:
Facebook
Twitter
Wild Terra - multiplayer online game about life in a realistic medieval world, where players themselves create environment and rules of their reality.
Purchase an access with discounts up to 70% and start playing right away!
(After the release of the game, all those who bought early access - get a free Steam-key)
Core features:
Huge and open for exploration realistic medieval world of Europe.
The world is created and driven by players. There are no pre-built castles, NPCs, and quests in the game. Only players themselves can build roads, cut down forests, found new towns … shape the server as they want!
Possibility of building whatever you want wherever you want. It doesn't matter weather it's a campfire for one night or an entire castle!
Deep craft system with different fields to indulge in: agriculture, animal husbandry, cooking, viewing, smithing. There are a lot of resources to gather and recipes to learn
Free and fully player-driven economy. Everyone can benefit from oneself's skills and trading. Crafting system, manufacturing and uneven spreading of resources around the map will force players to cooperate and deal with each other to prosper.
Success in PvP depends on tactics and player's skill. Wise usage of advantages of the area and one's equipment are the keys to winning fights. High levels and upgraded equipment don't mean a fully guaranteed win.
There are servers for hardcore survival with full loot drop on death, building destructions, and PvP, as well as quiet servers for those who prefer calm atmosphere and non-PvP content of the game.
What press writes about Wild Terra:
"It's weird that I haven't heard about Wild Terra because its's a game that every hardcore veteran is waiting for" - mmorpg.org.pl
"Looking for an up-and-coming sandbox that isn't some weird jumble of voxels? Wild Terra would respectfully submit that you check out its isometric medieval world as a possibility." - massivelyop.com
"This game will be a good choice for players who does not like grinding. There are no NPCs in the game, so the only way to get something is to create it by yourself or buy it from other players... or take it with brutal force." - 2p.com
"Is an amazing game, and I became quite obsessed with it. As a whole, I recommend Wild Terra to all adventurers that want a new, unique experience to check out!" - 8/10 bestmmorpg2015.com
"I totally recommend Wild Terra Online, it has great potential and a really bright feature. Can't wait to see what the devs have in mind and what other features will be added in the game. " - 7.5/10 grabthegames.com
"Wild Terra really gave me a sense of accomplishment because you have nothing to start with, so my little house and rickety fence may look cheap, but I put the time and effort into every piece of it – it's a great feeling that I made it." - mmo-central.com